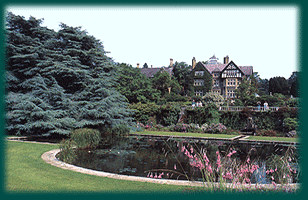 Bodnant Garden is one of the most beautiful gardens in the UK, spanning some 80 acres and is situated above the River Conwy on ground sloping towards the west and looking across the valley towards the Snowdonia range.
The garden has two parts. The upper garden around Bodnant Hall consists of the terraced gardens and informal lawns shaded by trees. The lower portion, known as the "Dell" is formed by the valley of the River Hiraethlyn and contains the Wild garden.
An endeavour has been made at Bodnant Garden to grow a wide range of interesting and beautiful plants from all over the world, particularly China, North America, Europe and Japan that are suited to the Welsh climate and soil. As well as this, care has been taken to place the plants in such a way that they enhance each other and contribute to the general beauty of the garden throughout the seasons.
The Garden will interest amateur and professional gardeners, artists, photographers and families alike.
Bodnant Garden Take a tour around their site and enjoy the delights Bodnant Garden has to offer.
They are open from the 26th February – 31st October daily 10-5pm, and 1st November – 13th November daily 10-4pm. Last entry is 30 minutes prior to closing.
Members of the National Trust and fellows of the Royal Horticultural Society are admitted free on presentation of a valid membership card.
Click here to find out more about National Trust membership or here for the Royal Horticultural Society