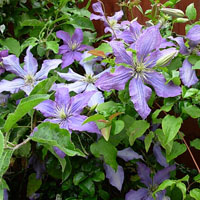 One of the most rewarding sights in my garden this year has been the Clematis.
Over the years I have planted a number of early and late flowering Clematis below my established shrubs which has meant that when you least expect it wonderfully coloured flowers emerge from the shrubs foliage.
Not all Clematis are suitable for this treatment, try the small-flowered species which flower in early spring on last season's growth. The stems can look a little unsightly during the winter so grow these through evergreen shrubs to disguise the Clematis stems. Once they have finished flowering carefully remove dead or damaged stems, and reduce other stems if they are taking over the shrub. Every few years you can rejuvenate older plants by cutting down to 15-30cm (6-12in) from the base immediately after flowering. This will keep the clematis in check and avoid damaging the shrub it is growing through.
You can also try the late summer flowering varieties which flower on this years growth meaning that you can cut the whole plant down to a pair of strong buds 15-20cm (6-8in) above soil level, before growth begins in early spring leaving your shrub free to do its thing during early summer.