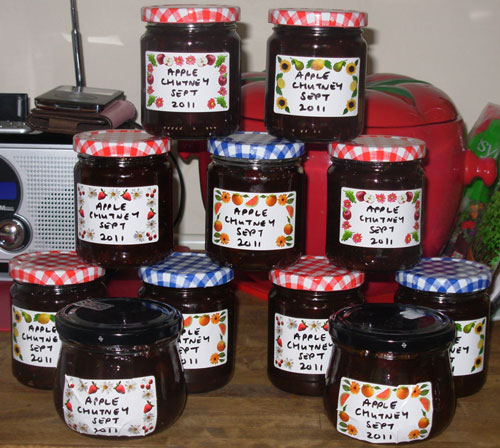 About 10 years ago my brother, Ken, bought me a Cox's Orange Pippin apple tree, grafted to keep it small enough for my small garden.
Over the years it has basically looked after itself with little or no pruning, but each year it produces a number of apples which I usually forget about and end up as food for the birds.
This year I decided to harvest the apples whilst they were still on the tree and in good condition; this resulted in 13lbs of lovely, good sized apples.
Great, lots of apples! But what would I do with them all?
I've made chutneys and marmalades (take a look at my Calamondin Marmalade recipe) in the passed so a quick internet search confirmed that I could indeed make an Apple Chutney and there were lots of recipes to choose from.
The recipe I settled on was Apple and Raisin Chutney.
Here is the recipe:
Ingredients
1.8kg/4lb apples, peeled, cored and chopped
4 medium onions, peeled and finely chopped
2 cloves garlic, peeled and crushed
1 lemon, juice only
1 tbsp mustard seeds
900ml/1½ pint vinegar (cider or malt)
450g/1lb raisins
1 tbsp ground ginger
2 tsp salt
900g/2lb soft brown sugar
Preparation method
Bring the apples, onions, garlic, lemon juice, mustard seed and 590ml/1 pint of vinegar to the boil.
Simmer for 1 hour.
Add the raisins, ginger, salt, sugar and the rest of the vinegar.
Simmer until thick.
Pour into clean, hot jam jars and cover as usual. Store for 6-8 weeks to allow the flavours to develop.
The recipe calls for 4lbs of apples so I had to multiply the volumes up to use my 13lbs so it was at this point I realised just how much chutney 13lbs of apples would make so I decided to use just half of them and make puree with the remainder which I can use in other recipes.
Everything was going well until I had to simmer it until it thickened. An hour later it still hadn't thickened so I turned up the heat; bad move, it had stuck to the base of my favourite pan. I decanted the mixture into two smaller pans to finish it off and spent a good half an hour trying to get the burnt on mixture off the pan. Mr Muscle Oven cleaner worked brilliant in the end and my pan is as good as new.
The mixture turned out OK in the end with no burnt taste, so it's now been potted up and will be kept for the required couple of months to let the tastes develop; ideal timing for Christmas.
Take a look at an article I did last year on how to Harvest and Preserve your Garden Produce with some great products from Lakeland and Harrod Horticulture.
I have got most of the equipment needed to produce jams, marmalades and chutneys but how I struggled this time was in preparing the apples.
For some time now I've been having problems with my right thumb and peeling potatoes and now apples really hurts and takes ages because I keep having to stop.
Having recently watched Steven Fry's 100 Greatest Gadgets I noticed that number 9 was an apple peeler. At the time I didn't think much of it but now having painfully peeled and cored 13lbs of apples I will be ordering one of these wonderful gadgets from Lakeland – click for more information about Apple Master.