Now is the time to plant your spring flowering bulbs.
Spring Flowering Bulbs come in lots of shapes, sizes and colours but the one thing they have in common is the ability to turn a dull late winter, early spring garden into an oasis of light and colour. No garden is complete without the good old daffodil or tulip but there are many other spring flowering bulbs which will add additional interest.
There are bulbous plants for lots of different situations but nearly all require good drainage and many thrive in sunny sites. Many bulbous plants are threatened in the wild so it is important to buy bulbs from cultivated sources such as Crocus.co.uk which has a great range of colourful, healthy Spring Flowering Bulbs.
When planting incorporate well-rotted organic matter and a balanced fertiliser. Bulbs generally need planting quite deep; the general rule is three times their own depth. However, if you get the depth wrong most bulbs will pull themselves down into the ground using special, contractile roots. If you're planting bulbs in heavy soil, add grit to the bottom of the hole to ensure good drainage.
A few bulbs prefer shallow planting. Plant Madonna lilies (Lilium candidum) with the tip of the bulb just showing above ground. Lay Crown Imperials (Fritillaria imperialis) on their sides so that water can't collect in their hollow centre and make them rot.
Deadhead regularly and apply a low nitrogen, high potassium fertiliser in subsequent years. Lift and divide if they become overcrowded.
Allium cristophii – Star of Persia
Huge globes of small star-shaped, pinkish-purple flowers appear in summer above narrow, grey-green leaves. In bloom these fabulous globes – up to 20cm (8in) in diameter – have a metallic sheen. The faded flowerheads hold up well in the border and are useful for dried flower arrangements. Perfect for a sunny site, dotted in small groups among ornamental grasses, or as part of a Mediterranean scheme. Alliums look best planted between medium-sized herbaceous plants, which help to mask the strap-like leaves, which fade by the time the flowers appear.
Allium hollandicum 'Purple Sensation' – Dutch Garlic
Dense, rich-purple globes held high on erect stems above strap-like, mid green leaves appear in early summer. They look spectacular grouped in a pot, or in a sunny border, dotted in groups among ornamental grasses, or as part of a Mediterranean scheme. Alliums look best planted between medium-sized herbaceous plants, which help to mask the strap-like leaves, which fade by the time the flowers appear.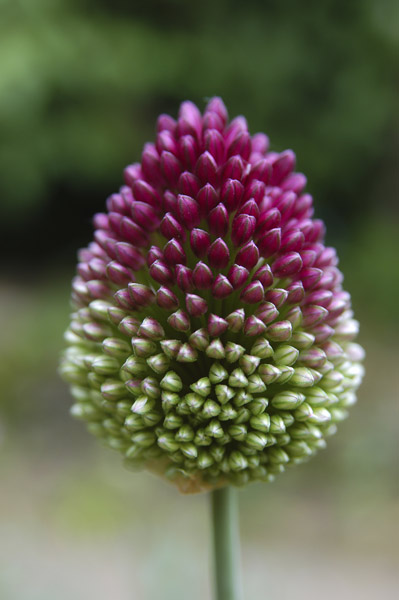 Allium sphaerocephalon – round-headed leek
Small, egg-shaped, claret-coloured flowerheads appear like drumsticks on tall, slender stems above strap-like, mid-green leaves in mid to late summer. Planted en masse in a border in full sun, these diminutive claret flowers look great emerging from a screen of foliage, or against a backdrop of ornamental grasses. They gently fade as summer comes to a close.
Anemone blanda blue-flowered – winter windflower blue-flowered
This is a wonderful plant that produces cheerful, daisy-like flowers in shades of blue and purple in March and April. These are perfect plants for naturalising in a mixed border around the base of deciduous shrubs, or adding spring colour to the edge of a woodland garden. For maximum impact, plant in bold drifts in September or October, and if happy, they should spread quite quickly.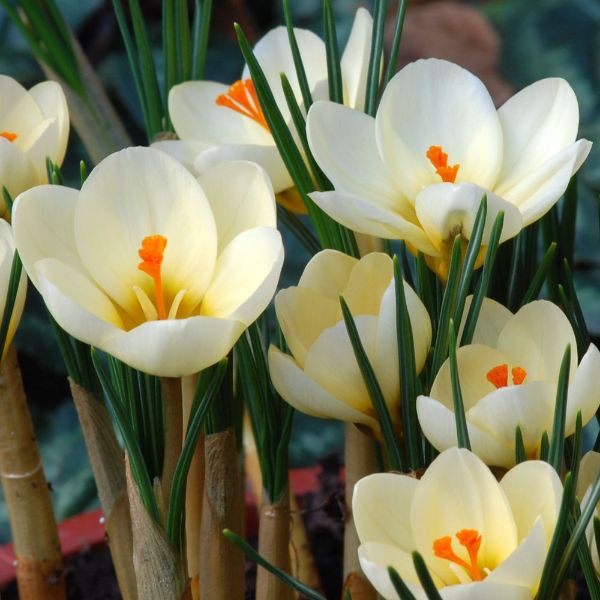 Crocus chrysanthus 'Cream Beauty'
Rich-cream goblets with brown flushes and deep golden-yellow throats, emerge in February and March amid slender, strap-shaped, mid green leaves. These spring-flowering crocuses are perfect for naturalising in sunny, well-drained areas of the lawn. Relatively vigorous, they soon form large colonies, which can be divided in early autumn for use in other parts of the garden.
Fritillaria meleagris – snake's head fritillary
Pretty, pendent, white and pinkish-purple bells with distinctive checkerboard markings on slender stems in April and May. These delightful snake's head fritillaries are perfect for naturalising in a moist woodland edge or wildflower garden. It's essential to select a site where the soil remains moist in summer.
Galanthus nivalis 'Viridapice' – snowdrop
A taller variety with a distinctive, long spathe which looks like the flowers have a hood. This is a good choice for those looking for a slightly more unusual snowdrop, or those wanting to add to their collection as it is still quite rare. Both the inner and outer petals are white, but have green markings which make them look as if they have been painted with a brush.
Hyacinthus orientalis 'Woodstock' – Hyacinth
A fabulous hyacinth with deep magenta-purple blooms that are delicately scented. Plant in mixed beds in the garden or in pots on the patio so you can move them around for best effect. A great colour for mixing with deep purples or plum shades to create a 'bruised' border.
Browse the full range of Spring Flowering Bulbs from Crocus.co.uk